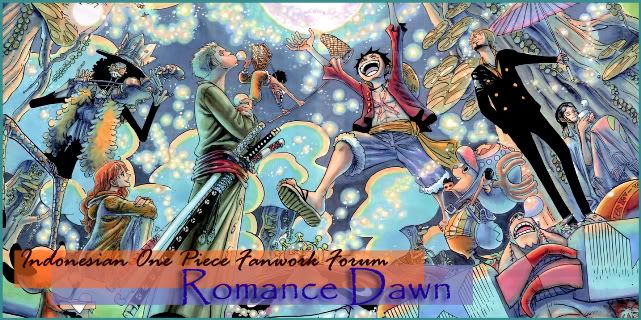 →
→
→

MAIN RULES
Selamat datang di Romance Dawn, Indonesian One Piece Fanwork Forum.

Forum ini adalah forum di mana para pecinta dan pembuat fanwork One Piece seperti fanfiksi, fanart, dll. bisa berdiskusi dan berbagi banyak hal. Bagi Anda yang berminat untuk menjadi bagian dari diskusi kami, tentu kami akan sangat menerima kehadiran Anda sebagai member atau nakama di sini

Mari mendaftar menjadi nakama baru!

Selamat Datang Kembali kepada member atau nakama kami yang sudah mendaftar. Silahkan log-in untuk melanjutkan diskusi Anda di Romance Dawn:


1 user viewing this forum (1 Guest and 0 Anonymous)

Members:
Displaying Topics 1-2 of 2.
| | | |
| --- | --- | --- |
| | | 7:21 PM Aug 19 |
ALLIES